Welcome!
Unity of Fort Myers is spiritual community where EVERYONE is Welcome and you will ...
Experience loving acceptance                                 Hear uplifting, positive messages 
Discover your indwelling Christ                               Explore the Kingdom of Heaven
Find comfort during challenging times                   Discover how YOU can make a difference
Sunday Service 10 am - We look forward to meeting you with a hug!
---
Our Core Values
Spirit, Truth, Love, Gratitude, Joy
Our Mission
Through prayer, education and service, we bring to action the one and only power of God.
Our Vision
Centered in Love, we joyfully celebrate a world united in Divine Truth
2023 Board Vision
Energy is now flowing through us with abundant expectancy as we come together to focus on:
Protecting our sacred, healthy and whole land! Raising our voices with live music! Inviting and welcoming everyone!  Vitalizing the financial health of this community!
---
We are located on 10 acres of tropical paradise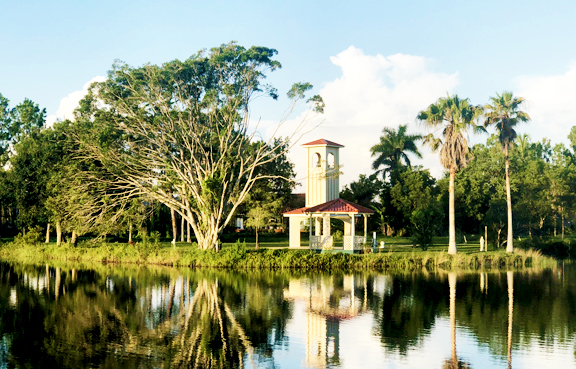 We are easily accessed from the major routes of Daniels Parkway and Colonial Boulevard.
Location
11120 Ranchette Road
Fort Myers, FL 33966
239-278-1511
office@unityoffortmyers.org
Our campus includes a 400-seat sanctuary (which opened on Easter Sunday, March 27, 2016),  our original chapel building with offices, classrooms, and Lanai, a gazebo and Bell tower that hugs the shores of Peace Lake.
We continue the teaching ministry of Jesus and awaken the minds of countless souls to know their own Divinity and to experience the unconditional love of God. The love we share is our greatest gift, and in its embrace many are healed here and set free.
We serve more than 300 people weekly in service, prayer, meditation, classes, counsel, support groups, and pastoral care. Everyone is welcome to attend any class or workshop at Unity of Fort Myers!
Please CLICK HERE for a visual tour of our campus
---
Staff
---
Board of Directors
Rev. Crystal Muldrow, Senior Minister

Hyacinth Reynolds, Board President

Bren Powell, Vice President

John Reed, Treasurer

Lana Vail - Secretary

Tracy LeBrun, Trustee

James Leese, Trustee
---
How to Support Us
There are many ways you can support Unity of Fort Myers: with your love and prayers; your presence at Sunday services and classes; and your financial support, too. Our spiritual community is thriving because of the generosity of people like you, who put feet on their prayers by giving of their time, talent and treasure.
If you would like to make a donation to support Unity of Fort Myers, you may:
Click on the online donation button at the top right of our website pages and send money from your bank account or use a credit or debit card, or your PayPal account
Use your cell phone and text GIVEUNITYFORTMYERS to 44-321
or send a check to:
Unity of Fort Myers
11120 Ranchette Road
Fort Myers, FL 33966