All are Welcome Here at Unity of Fort Myers!
As a positive alternative to negative religious experiences, Unity seeks to apply the teachings of Jesus as well as other spiritual masters.  Unity affirms the power of prayer and helps people experience a stronger connection with God every day.
Spiritual seekers often say that finding Unity is like coming home.  Unity is an open-minded, accepting spiritual community that honors all paths to God.  It helps people discover and live their spiritual potential and purpose.
Unity emphasizes the practical, everyday application of spiritual principles to help people live more abundant and meaningful lives.  Its local spiritual communities offer inspiring ministers, beautiful places to meet like-minded people, social activities, potlucks, youth groups, retreats, workshops and classes.  The Unity movement also provides free 24/7 prayer support (called Silent Unity); publishes books, magazines (including Daily Word) and CDs; sponsors a full-service web site at www.unity.org; and broadcasts a free 24/7 online radio network at www.unity.fm.
Although personal and spiritual growth come from within, most people appreciate learning, friendships, support and companionship along the way.  Unity is committed to helping you find your way to your own understanding--and experience--of God.  The result?  You feel good about yourself and discover the peace and joy of abundant living.
Discover an inclusive and open-minded spiritual community.
"There's too much negativity associated with much of religion today.  Our Unity spiritual community is about family, community, love, uplifting music and unconditional acceptance.  It's stimulating, contemporary and empowering.  Unity has helped us adopt a positive way of life by giving us an easy-to-follow guide for spiritual living."
"Unity has made my life more abundant and meaningful.  I feel accepted in a community of like-minded people."
YOU are Welcome Here
Thank you for blessing us with your presence and participation.  We receive you joyfully in unconditional love.  All are welcome here.
Unity of Fort Myers is a spiritual fellowship and community for those who consider themselves spiritual but not necessarily religious. If you are looking for an open, diverse, welcoming and loving spiritual community for fellowship and fun, Unity of Fort Myers may be the spiritual community and home for you.
We are an active ministry with a full calendar of insightful and empowering events.  Attend a Sunday service, take a spiritual enrichment class, bring the children to one of our Youth and Family events, break bread together at a fellowship lunch, join a group outing for a day of community service, and so much more.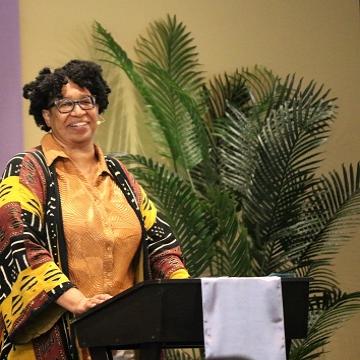 Rev. Crystal Muldrow, is our Senior Minister. You can connect with her      to discover more about Unity as a spiritual philosophy and Unity of Fort Myers as a spiritual ministry and community.  
 Rev. Crystal is also available for personal, professional and family   spiritual counseling, and other services such as baptisms, weddings   and funerals.  See the senior minister info insert for contact   details.  /reverend-crystal-muldrow
Unity of Fort Myers Vision
Centered in Love, we joyfully celebrate a world united in Divine Truth
Unity: What We Teach
We all have an innate capacity to know God through direct experience.

The "Christ" is that part of God that is in every person.  There is a spark of divinity within all people, just as there was in Jesus.

Prayer works.

Heaven is not a place, but a state of consciousness; we create our own heaven or hell here and now.

We are here to set a positive example and be a role model for others.

We are here to make the world a better place.
Unity: Five Basic Principles
God is the source and creator of all.  There is no other enduring power.  God is good and present everywhere.

We are spiritual beings, created in God's image.  The spirit of God lives within each person; therefore, all people are inherently good.

We create our life experiences through our way of thinking.

There is power in affirmative prayer, which we believe increases our awareness of God. 

Knowledge of these spiritual principles is not enough.  We must live them.
Check our calendar for upcoming events: www.unityoffortmyers.org/events